Let Resolve fix your net terms headache
Offering net terms can be a lot of work for your team. Let us manage every aspect, from smart credit checks, to payment and collections management. Resolve is your 'credit team' on tap.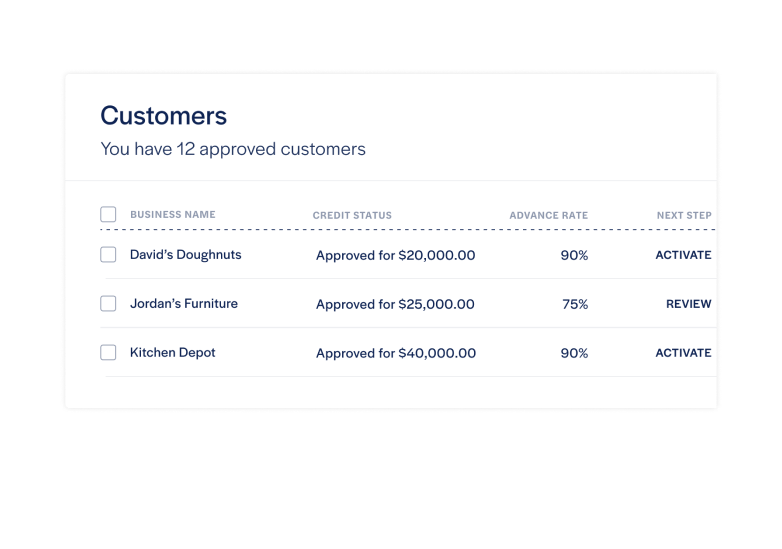 2
x
increase in buyer
purchasing power
50
%
less time managing
receivables
Getting started with Resolve is easy
Sync your customer details
Resolve' syncs with QuickBooks Online to help you seamlessly select which ones to run through our simple and fast credit assessment.
We help update the payment details
Resolve helps you reach our to your existing customers with updated payment details. You're in control, choose automated or manual emails.
Your customers get more ways to paid
Resolve's payments portal accepts payments by ACH, check, and credit card. We give your customers more flexibility and options.
Smart credit checks in minutes not weeks
Get credit checks done fast. Resolve's credit assessment uses proprietary financial databases and algorithms to assess your customers. Want to do a quiet pre-approval check on a new customer? They don't have to fill in a thing.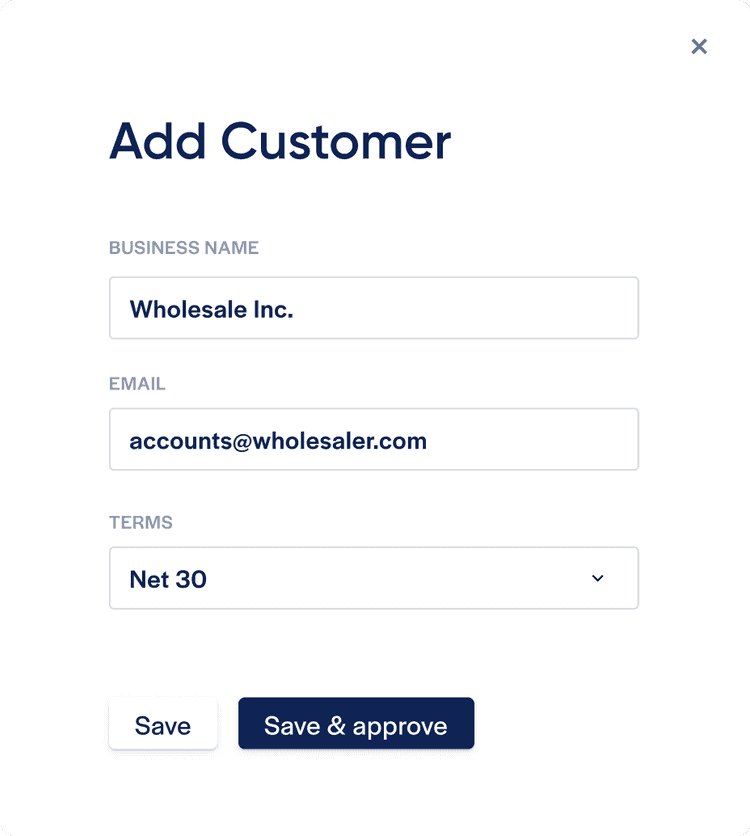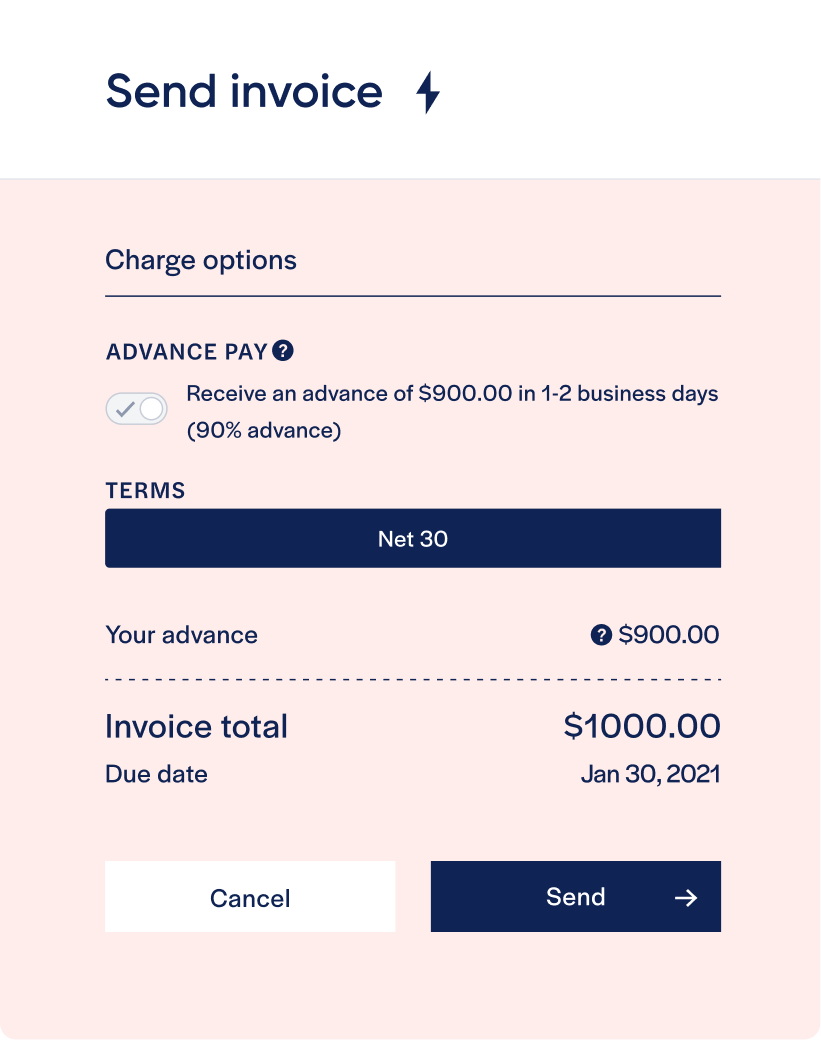 Get up to 100% of invoices upfront
Resolve will advance pay up to 100% on invoices from your approved customers. Dramatically improve cash flow, and reduce your risk. Let Resolve can manage your net terms credit risk so you can focus on growth.
Resolve takes care of payments & collections
We're your Accounts Receivable partner. Resolve automates the time-consuming tasks of payment reminders, servicing, and collections. We process payments and chase any late payments.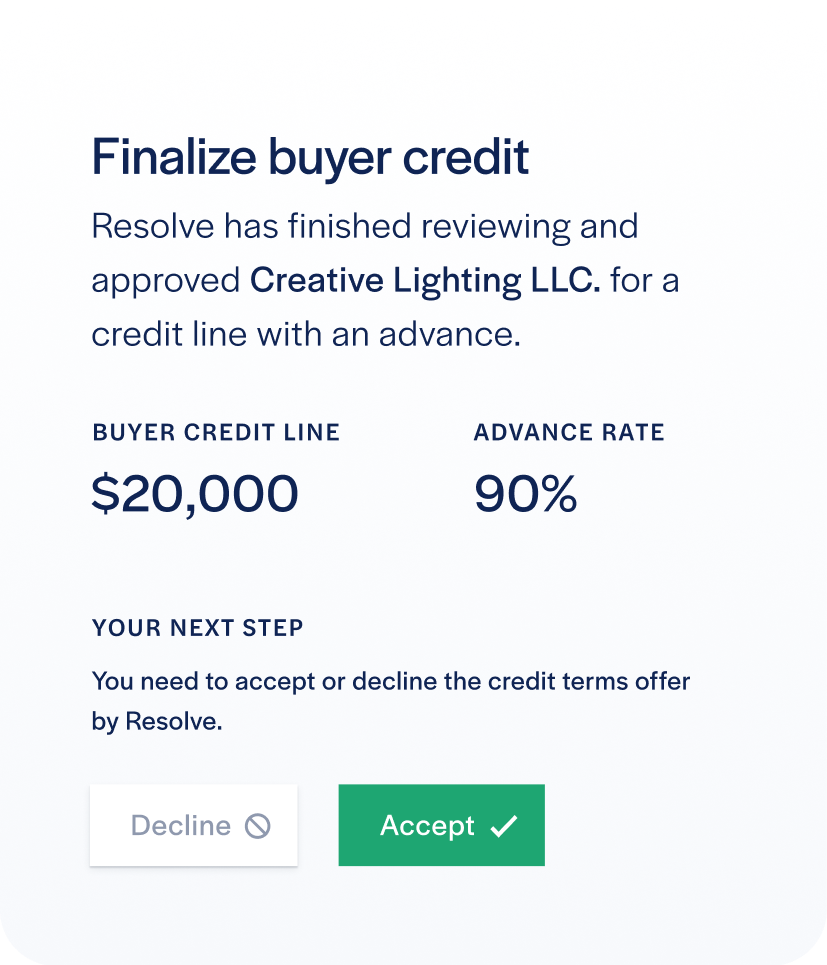 Resolve stays in the background
You own your customer relationships. Resolve stays in the background with our white-label features.
Our team is here to help with every step
Resolve offers world-class customer service and support. You won't be on your own - we'll help with accounting system connections, net terms migration, and product training.
Smart credit engine
Resolve's credit check of your customer is completed within hours. Our Smart Credit Engine means fast and simple financial assessment of your customer for net terms and a credit line.
Advance Pay
Resolve's Advance means your invoices get paid upfront. Once approved, your customer's risk profile will be for 50%, 75%, or 90% advance rates (meaning we'll pay out 100% of the invoice).
Payment Chaser
Resolve's Payment Chaser product enhances your 'credit team' resources, we automate the time-consuming tasks of payment reminders, servicing, and collections.
Payment Portal
Resolve's Payment Portal accepts payments by ACH, Check, and credit card. We take care of processing your customer payments, saving your team time.
Turn your AR into cash
Chat with an expert today.